Winter Of The Fall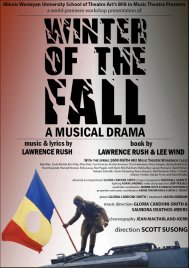 "Winter Of The Fall" tells the story of Radu and Julia, a young Romanian couple who are swept up in the events of the last weeks of the Ceaucescu dictatorship. We follow their story as we watch the last days of the lives of Nicolai and Elena Ceaucescu unfold. It is a story of heroism and the journey from fear to courage in the face of evil.
"Winter of the Fall" was a 1997 Richard Rodgers Award finalist. It was most recently produced in a workshop performance at Illinois Wesleyan University in April of 2009, directed by Scott Susong.
After the performance, Lawrence spoke to the students regarding his impressions and their experience. You can read about it in the
Illinois Wesleyan Interview
.
Music

"Choosing Right"
performed by Ashley Nordland, Peter Yarin, piano
Workshop Photos